Lift Every Voice Concert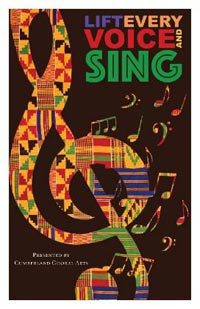 Lift Every Voice and Sing!
What began as a vision of CCA member, Brenda Vandervort, became reality in February 2019 when the first annual Lift Every Voice and Sing – A Musical Journey Through Black History concert was presented at Holy Trinity Episcopal Church. The concert's title is taken in part from the poem "Lift Every Voice and Sing" written by James Weldon Johnson in 1899 and set to music in 1900 by his brother, John Rosamond Johnson, and the concert focuses on the music of notable African American musicians, traditional spirituals and gospel music, and music from Black Broadway shows and films along with poetry and dramatic reading presentations.

Following the great success of the first concert, the Cumberland Choral Arts board supported making Lift Every Voice and Sing an annual event. Then came the COVID pandemic, and like so many other events, the second annual concert had to be put on hold. But as musicians and singers learned to adapt to presenting concerts in new ways, the second annual "Lift Every Voice and Sing" concert was presented on February 8, 2021 via live stream on the CCA YouTube channel. Musicians from CCA included Brenda Vandervort, Mezzo Soprano; Corey Leak, Tenor; and Chris Colon and Ryan Pagels, Pianists. Also featured were Dr. Denise Murchison Payton, Soprano; Monique Butler McLeod, Soprano; Ramelle Brooks, Bass; with special appearances by the Cross Creek Chorale, Artistic Director Dr. Michael Martin; and Joy Vandervort-Cobb, Actress and Director. Knowing the hardships faced by so many in the Fayetteville community due to the pandemic, a portion of the proceeds from ticket sales was donated to Fayetteville Urban Ministries for their Emergency Need fund.
We graciously acknowledge the donations and grants from the Arts Council of Fayetteville, the City of Fayetteville, Cumberland County, and the North Carolina Arts Council, a division of the Department of Natural and Cultural Resources that made this concert possible.