Fayetteville Music Hall of Fame Award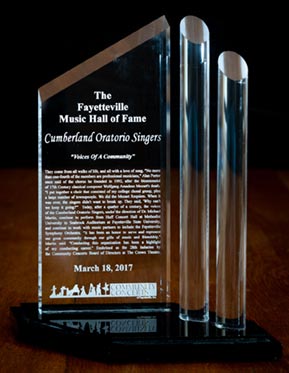 "Voices of a Community"
They come from all walks of life, and all with a love of song.  "No more than one-fourth of the members are professional musicians," Alan Porter once said of the chorus he founded in 1992, after the bicentennial of 17th century classical composer Wolfgang Amadeus Mozart's death.  "I put together a choir that consisted of my college choral group plus a large number of townspeople.  We did the Mozart Requiem.  When it was over, the singers didn't want to break up. They said, 'Why can't we keep it going?'" Today, after a quarter of a century, the voices of the Cumberland Oratorio Singers, under the direction of Dr. Michael Martin, continue to perform from Huff Concert Hall at Methodist University to Seabrook Auditorium at Fayetteville State University, and continue to work with music partners to include the Fayetteville Symphony Orchestra.  "It has been an honor to serve and represent our great community through our gifts of music and friendship," Martin said. "Conducting this organization has been a highlight of my conducting career."  Enshrined as the 28th inductee by the Community Concerts Board of Directors at The Crown Theatre.  March 18, 2017
Singer in the Spotlight
MARY POTTER, Alto
Mary is the only member of Cumberland Choral Arts who performed Mozart's Requiem in 1991 with Alan Porter's group that became the Cumberland Oratorio Singers and later Cumberland Choral Arts, and she has been singing with the group for all 30 years!  Of the many pieces the group has performed, Mary said the Holocaust Cantata was her favorite.
Mary is a retired teacher who continues to sub at several different schools.  She is a member of the St. Patrick Catholic Church Choir and was a member of the Cantate Chamber Choir, directed by Stephan Barnicle.
Always staying busy, Mary enjoys yoga, water aerobics, bike riding, and horseback riding.  She loves to travel, do puzzles, and listen to music of all types.  But Mary's very favorite thing to do is play with her grandchildren!
Mary has served in leadership positions on the COS/CCA Board of Directors for eight years, with two of those as President.   Thank you, Mary, for your singing voice and your dedication to COS/CCA for these 30 years!