CCA Singers
2022-2023
CUMBERLAND CHORAL ARTS
Dr. Michael Martin, Artistic Director
Amy Stovall, Assistant Director
Susan Eissele, Accompanist
SOPRANO
Ashleigh Adamson
Polly Alves
Adriana Antolinez
Susannah Skiver Barton
Denise Brown
Patsy Brown
Natalie Cardona
Marie Dean
Frances Ellerbe
Linda Good
Lynda Lea Goodall
Cynthia Gunter
Euna Kim
Robin Lacy
Jenna Mangus
Sharon Smith McNair
Gail Morfesis
Julia Pillman
Lois Riesterer
Kayleen Roussin
Ravyn Rozier
Amy Stovall
Ceci Suhre
Kathy Thaman
Ann Wells
Elizabeth Wise
ALTO
Margi Beyersdorf
Sandy Cage
Risa Cheney
Sarah Crews
Christi Davis
Zinnia Du
Shari Finkler
Rhonda Faircloth Flatley
Alisha Fox
Erin Fuhr
Mary Gamble
Catherine Good
Abby Hast
Rose Hatcher
Adele Hatfield
Charlotte Henderson
Dar Jennings
Shandy Lemperle
Donna Jo Mangus
Nickie Miller
Monica Morrison
Grace Myrick
Faith Newton
Lisa Packer
Josie Perry
Mary Potter
Amanda Rea
Amy Rivas
Sarah Szopinski
Laura Taylor
Brenda Vandervort-Miller
Denise Varela
Susie Waring
April Wilkerson
Ashley Wilson
Mia Wireman
Tammy Woody
TENOR
Jim Burns
Nan Cekuta
Dave Cheney
Chris Colón
Wessley Futrell
Corey Leak
Timothy Lloyd
Jodi Murray
Jane Peacock
Warren Way
BASS
Gregory Beers
Caleb Cardwell
Andrew Finkler
Curtis Kinzey
Fitz Lee
A. J. Macks II
Bob Moore
Adam White
Dwight Williams, Jr.
Travis Yeagley

Singer in the Spotlight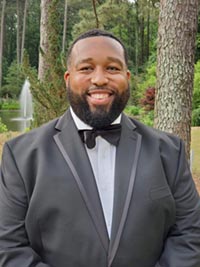 COREY LEAK, Tenor
When asked about his favorite performance with CCA, Corey didn't hesitate. He was the soloist for the CCA virtual production of "That Lonesome Road" and loves singing that song because Corey had the pleasure of performing it with James Taylor when he was a member of the Boys Choir of Harlem. Corey is also a former member of the Operatic Chorus at the Met in NYC and the Jubilee and Symphonic Choirs of Westminster Choir College.
Singing and performing are two of Corey's passions. He is the music teacher at Lucile Souders Elementary School and has been singing with CCA for three years. "One of the biggest rewards I've been blessed with is giving back and teaching my students. Getting the chance to pour what I've been given into them and watch their imaginations soar is an amazing opportunity I never get tired of." Corey is also on the Praise Team at Watts Chapel Baptist Church in Raleigh.
In his free time, Corey loves to travel with his family and will hit the road whenever possible. He also loves catching a good action flick at the theater.
"My son and husband are my inspirations, and they are two of my reasons for pushing myself to always be better than I was the day before."