Artistic Directors
Dr. Michael D. Martin, Artistic Director, 2008 – 2017 and 2020 –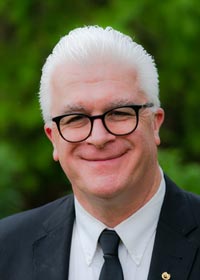 Dr. Michael D. Martin hails from the great state of Maine and is returning to the Cumberland Choral Arts (CCA) having served as Artistic Director of Cumberland Oratorio Singers from 2008-2017. He earned his Bachelor of Music Education and Master of Music degree in Choral Conducting at the University of Maine. He completed his Ph.D. in Music Education with an emphasis in choral education through Kent State University, Kent, OH. He has taught in grades 4-12, in the capacity of choral, band, and orchestral education positions throughout ME, NH and MA. He has received recognition as a teacher and conductor, having been the recipient of several teaching awards, serving as a guest conductor, vocal clinician, and as a judge for several New England, Midwestern, and East Coast festivals. His past student performing ensembles (SATB, SSAA, TTBB) have received both regional and national awards for their performances.
Dr. Martin has also enjoyed a rich involvement in conducting community choral groups in NH and ME. In 2001, he created a semi-professional chorus, The New Vocal Collective, in central New Hampshire recording one compact disc. He also conducted the Portland Downeasters, a Portland, ME based barbershop chorus, which became one of the top four choruses in the Northeastern District in 2002-2004. He received national attention with his championship barbershop quartet The Management (1986-2003) by touring New England schools in support of music programs. For this work promoting youth involvement in music, the quartet shared the National Education Service Award sponsored by MENC and SPEBSQSA (now Barbershop Harmony Society). He also received distinction as the recipient of Distinguished Choral Director of the Year from the Maine Chapter of ACDA. He is the immediate past Artistic Director of the Cumberland Oratorio Singers (now CCA) who were Finalists for the American Prize in Community Chorus Performance and inducted into the Fayetteville Music Hall of Fame. Dr. Martin is also the first recipient of the Union-Zukowski Endowed Professor in the Fine Arts.
Dr. Martin's current college groups are in constant demand for performances throughout North Carolina and the southeast. They have toured the Netherlands, Belgium, Germany, France and recently, Italy, and from Orlando to Boston. They have also recorded 2 CD's: A Yuletide Keepsake and Legacy. He is currently the Director of Choral Activities, Director of Music Education, and Coordinator of Fine Arts Management at Methodist University, where he conducts the MU Chorale, Chamber Singers, "The Noblemen" (men's chorus), "Grace Notes" (women's chorus), and the MU Chamber Orchestra. He is also serves as the Member-at-Large in High Education for the NC Music Educator's Association. He lives in Fayetteville with his wife, Amanda, his son, David, and his daughter, Meredith.
Amy Stovall, Assistant Artistic Director, 2021 –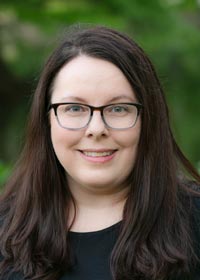 Amy K. Stovall is a native of Lafayette, Louisiana. Mrs. Stovall received her Bachelor of Music Education and Master of Music degrees from the University of North Carolina at Pembroke where she was a Presser Scholar and is a National Board Certified teacher. She previously studied at Louisiana State University in Baton Rouge, LA and Austin Peay State University in Clarksville, TN. Mrs. Stovall studied piano under Dr. Anne Glass, and Drs. Jon and Elizabeth Maisonpierre. She studied voice under Robin L. Frye and Dr. Jaeyoon Kim.
She is currently serving in her 13th year as the choral director at Gray's Creek High School in Hope Mills, NC. She previously taught choral music for 3 years at Scotland High School and 1 year at Lumberton Junior High School. Under her direction, the Gray's Creek choirs have earned Superior ratings at state adjudications for many years as well as earning Best in Class, Bronze and Silver Awards at Festival Disney in Orlando. Her choirs have performed with Foreigner, and recently were featured at a concert at the state convention for music educators. As Co-Director of Musical Theatre, Mrs. Stovall has helped develop a thriving musical theatre program at Gray's Creek HS, where they produce a full-scale musical each spring. Some of her favorite productions have been "Into the Woods", "How to Succeed in Business Without Really Trying", "Fiddler on the Roof", and "Sweeney Todd: The Demon Barber of Fleet Street."
Mrs. Stovall was the 2018-2019 Gray's Creek High School, Gray's Creek District, and Cumberland County Schools' Teacher of the Year.
Mrs. Stovall is the GCHS Arts Department Chair, a member of the Arts Education Curriculum Development Team, and site Chair for East 4 Large and Solo/Small Ensemble Music Performance Adjudication. Mrs. Stovall is a member of NAfME, NCMEA, ACDA, and an alumna of Sigma Alpha Iota Fraternity. She and her husband, Tommy, a high school band director, live in the Gray's Creek community of Hope Mills with their children, Ginger (12) and Patrick (6). Their oldest son, Christopher (20) is currently serving in the Air Force.
Donna Jo Mangus, CYC Director, 2015 –
The Campbellton Youth Chorus Artistic Director, Donna Jo Mangus, is a native of Cumberland County. She has recently retired after 30 years of service in North Carolina Public Schools teaching chorus and general music at all levels, but this is not the end of her teaching career. Mrs. Mangus is now the Choral Director and General Music Teacher at Fayetteville Academy. She holds a Bachelor of Arts degree in Music Education from Campbell University and National Board Certification in Early and Middle Childhood Music with a concentration in vocal music. Mrs. Mangus serves as choir director at Bluff Presbyterian Church and sings with the Cumberland Choral Arts and the Cross Creek Chorale under the direction of Dr. Michael Martin. She has two incredibly musical children, Jackson (24) and Jenna (16).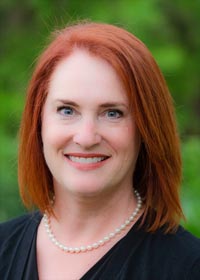 Donna Davenport, Accompanist
Originally from Goldsboro, North Carolina, Donna Davenport received her Bachelor and Master of Music degrees from Meredith College and The Ohio State University. Her career has included: Director of Music and/or Organist for churches in North Carolina, Indiana, and Texas; accompanist for choral festivals, musicals, and instrumental concerts; public and private school music educator; director of musical drama productions; class piano instructor; and private piano teacher. Mrs. Davenport is currently the organist at Snyder Memorial Baptist Church. Mrs. Davenport and her husband, Russ, live in Fayetteville and have six children.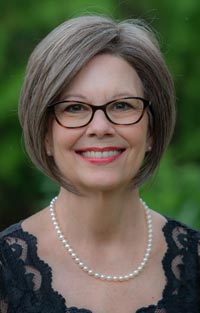 ---
Former Directors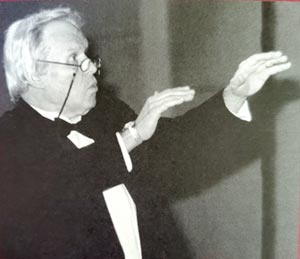 Alan M. Porter, Founder and Artistic Director, 1991 – 2008
Alan M. Porter is the founder of the Cumberland Oratorio Singers (now Cumberland Choral Arts) and was the Artistic Director of the group from its beginning in 1991 to his retirement in 2008. A native of Pennsylvania, Mr. Porter received a Bachelor of Music degree from Mount Union College and a Master of Music degree from the University of Illinois. He holds the title of Professor emeritus of Music from Methodist University where he taught for 35 years and directed the Methodist College Chorus. During part of that time, he served as Head of the Music Department and Director of the Division of Fine Arts. For 41 years he served as Director of Music at Hay Street United Methodist Church. Upon his retirement from the university in 1998, he and his wife, Elaine, moved to Kure Beach, NC, where Mr. Porter served as conductor of the Wilmington Choral Society for several years.
October 2016, Mr. Porter returned to guest conduct "Lacrimosa" from Mozart's Requiem in D Minor when the Cumberland Oratorio Singers reprised the work to celebrate 25 years since it was first performed in Fayetteville. Mr. Porter was inducted into the Fayetteville Music Hall of Fame in 2017 along with the group he founded.
Jason Britt, Artistic Director, 2017 – 2020
Jason Britt, a product of music instruction in the Cumberland County Schools, started his musical career with the strings program at Eastover Elementary School playing cello. During junior high, he studied cello with Susan Ellington, chorus with Susan Williams, and trombone with Jim Crayton at Armstrong Junior High. He was a member of the Cumberland County Youth Orchestra in his seventh and eighth grade years under the direction of the late Ken Ellington, where he was first chair cello. During high school, Mr. Britt played in bands directed by Jim Crayton and sang in choirs directed by Betty Neill Parsons. He attended the University of North Carolina at Wilmington to pursue a degree in chemistry, but his love of music called him to transfer to Methodist College where he received a Bachelor of Music degree with a concentration in Music Education in 1993. In 2013, Mr. Britt earned a Master of Music Education degree from East Carolina University.
After college, Mr. Britt began a career with Cumberland County Schools teaching General Music, Band, Chorus, and Advanced Placement Music Theory. He is currently the choral director at Cape Fear High School. For 20 years until his retirement in January 2015, Mr. Britt was the Director of Music at First Baptist Church in Fayetteville where he directed adult, youth, preschool, and hand bell choirs. His is a requested adjudicator and clinician and has adjudicated choirs throughout North Carolina.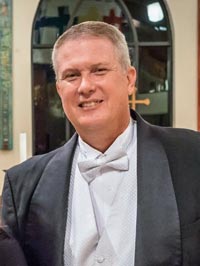 Mr. Ryan Pagels, Assistant Artistic Director, 2020 – 2021
When CCA officially added a formal Assistant Artistic Director position, Mr. Ryan Pagels, a highly sought-after conductor, composer, and pianist was recruited for the position. While working with CCA/CCC, Mr. Pagels also served as the Director of Music at St. John's Episcopal Church and Collaborative Pianist at Methodist University.
Before moving to Fayetteville, Mr. Pagels lived in Central Florida, serving as the Artistic Director and Conductor for the Marion Civic Chorale, and Director of Music at Countryside Presbyterian Church.
He also served as Chorusmaster for the Ocala Symphony Orchestra for three years and worked as a vocal coach at Stetson University for the voice studios and the Opera program.
With the Ocala Symphony, Mr. Pagels prepared the chorus for Handel's Messiah and for Orff's Carmina Burana. He also served as Music Director for theater companies, ranging from community to professional and equity productions.
Mr. Pagels studied at Stetson University, Georgia Southern University, and the University of Kentucky. He has also spent seven summers at the Adamant Music school, an international summer program for pianists.
While at Georgia Southern and the University of Kentucky, Mr. Pagels held Graduate Assistantships, accompanying choirs, chamber groups, opera/theatre and recitals, teaching theory and accompanying classes, and serving as a student conductor for various ensembles, including a community performance of the Brahms Requiem. In 2010, he made his Carnegie Hall debut, collaborated on recitals with faculty from Julliard, and was the pianist for the opening ceremonies of the World Equestrian Games.
In 2011, he made his international debut, concertizing in Italy as part of the Orfeo Music Festival. Mr. Pagels has been invited as a guest artist and presented masterclasses throughout the U.S., most recently at Marshall University, Butler University, University of Central Florida, Stetson University, Georgia Southern University, and the University of Southern Indiana.
Mr. Pagels has also worked and concertized with a wide variety of musicians, including Audra McDonald, Marvin Hamlisch, Arlo Guthrie, and Wynonna Judd.